Have you heard? The Palettes of Keuka are out and on display all around the lake! I am so excited to be joining the event for the 5th consecutive year. The Palettes of Keuka is actually in the sixth year of the very successful arts event. This year the artists really "stepped it up another notch!" I was at the preview showing of all the palettes at Pleasant Valley Winery and was beyond impressed with all of them. I am so glad to be part of bringing art to the forefront all around Keuka Lake. The event allows the committee to provide funding for numerous art related activities and scholarships for the ongoing arts development in and around Hammondsport and Keuka Lake.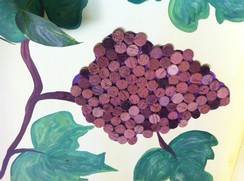 I again went out of the box this year and made a stand up wine rack that hold 6 bottles. It was another idea that come to me in the middle of the night (…like usual)! For the grape design, I sawed off the tops of red wine corks to give it another creative feel. I currently have left the back blank but am willing to paint a design on the wine rack for another hundred (or two) at the auction. I am sure my favorite auctioneer, Steve Muller, will help draw the price up with this piece of information!

This year's auction is scheduled for Saturday, September 8th. I really hope anyone who appreciates art and wants to give back to the community WILL be there! The preview begins at 10:00 am and the live auction starts at 1:00 pm sharp. I will be there to help bid up the prices, I can't wait….it's always exciting to see what everyone is willing to pay for great art.

Greetings from the tasting room of Heron Hill on Seneca Lake.
Spring marked the beginning of our 7th year here, and we are pleased to welcome back many of our outstanding staff including Alicia, Erin, Carol, Ed, Bill and Virginia, with the addition of a new assistant manager, Aimee, who brings experience and some new ideas to our tasting room.
When you visit this year, you will notice that we now offer wine served by the glass to be enjoyed on our patio. We are conveniently located on route 14, nearly halfway between Watkins Glen and Geneva, a great place to bring your picnic and take a mid-day break.
You will also notice that the really special features that keep our guests returning have not changed. We continue to pride ourselves on our excellent service by a well trained team, a relaxed and fun tasting experience, and most importantly, great wine.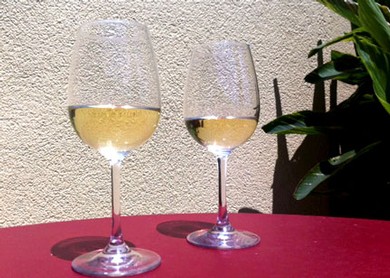 Summer traditions of entertaining and fresh farmstand food are an anticipated part of the season. Combine that with a lovely chilled wine, maybe the Classic Chardonnay 2010 or Semi-dry Riesling 2010 and you have a perfect match. Another perfect pairing is grilled peaches with vanilla ice cream and our 2008 Vidal Blanc Late Harvest dessert wine. It is truly an unforgettable summer taste.
We look forward to seeing you this summer so pack your picnic, come for a tasting, and then relax at one of our tables or on the lawn with a chilled glass of your favorite Heron Hill wine. It just sounds like such a good way to spend a lazy, hazy summer afternoon.
Recent Posts
November 13, 2019

October 16, 2019

May 9, 2019

April 22, 2019

January 7, 2019

July 27, 2017

December 27, 2016

December 9, 2016

November 11, 2016

November 7, 2016
Blog Categories
Blog Archives
Our Writers