Heron Hill's Classic Muscat is made with Valvin Muscat, a cross of Muscat Ottonel and Melon Muscat. It's very aromatic and slightly sweet with tropical fruit flavors. The current sale price on this wine makes it a great value for holiday entertaining. Here are two holiday recipes utilizing this wine.
Easy Wine Brine for Turkey
1 cup kosher salt
1/2 cup light brown sugar
1 quart vegetable stock
1 teaspoon poultry seasoning
1 teaspoon chopped fresh rosemary
1 teaspoon cracked black pepper
1 bottle Heron Hill Muscat
Heat vegetable stock with brown sugar and salt until completely dissolved. Transfer to a shallow pan and chill for 10 minutes.
Mix all remaining ingredients in a very large stock pot or plastic bin (that will fit in your fridge). Place your turkey in the brine and submerge completely. Cover tightly and keep refrigerated for 48 hours, turning once every 12 hours. Remove turkey from brine and roast as you normally would. Discard any leftover brine.
Sweet & Spicy Ham Glaze
2 cups Heron Hill Muscat (this leaves enough for the cook to enjoy while making dinner)
1 pound of dark brown sugar
1 teaspoon of creole spice mix (such as Tony Chachere's)
½ cup spicy brown mustard
Juice from one can of pineapple rings
Mix in a saucepan and heat on low stirring it every few minutes.
I use a spiral sliced ham to make carving easier but if you like big, rustic slices buy a ham that has not been pre-sliced.
Place pineapple rings on surface of your fully cooked ham and put a maraschino cherry in the center of each securing with a toothpick.
Pour glaze over entire ham and bake (covered) for 3 hours at 300 degrees.
Remove cover (foil or pan lid) and baste with glaze in the pan. Bake uncovered at 350 degrees for an additional 25-30 minutes to brown nicely.

Summer is in full swing at Heron Hill's Tasting Room on Seneca Lake! With plenty of picnic tables on our private patio, it's a great spot to relax with a glass of your favorite Heron Hill wine and eat a casual lunch. The grill is hot and we're offering delicious chicken kabobs and all beef hot dogs on Saturdays from 11 am to 4 pm and Sundays from 12 to 4 pm. Yes, our tasting room is pet-friendly as long as your pet is friendly and on a leash.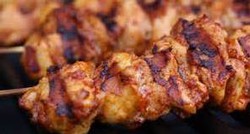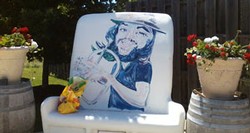 We had to say a heartfelt goodbye to two longtime team members this June. Most of you know the familiar faces of our manager Steve Acker and his wife Pam, who greeted so many of you over the years. They have officially retired and moved on to a very busy schedule of grandkids, volunteer positions and hopefully some much deserved relaxation. In addition, our pint-sized librarian, Rachel, has taken on yet another wonderful position in our community. She's now the media specialist for "Our Town Rocks" – a health improvement project for the town of Dundee, NY. We miss them immensely but wish everyone well, and we hope to still see all them often as they are sure to stop-by to replenish their stock of Heron Hill wine. Aimee Coates is now at the helm with one of the very best tasting room teams on Seneca Lake.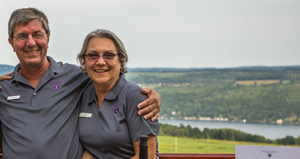 Thank you, Pam & Steve Acker!
Some new faces at the Seneca Tasting Room…
Jacob as joined us and is doing a great job outside cooking at the grill before he heads off to college in the fall. We have yet another amazing Nancy on our team – she's a local schoolteacher who has a great personality and extensive wine knowledge. You can still find the original Nancy here on the weekends, as well as Donna, Doreen, Erin and Susie. We welcome you to stop by to say hello and taste Heron Hill's newest wine releases including Ingle Vineyard Pinot Noir 2013, Eclipse Red 2013, and Reserve Blaufränkisch 2013. Our intimate Tasting Room on Seneca Lake is open daily; Monday-Saturday 10 am to 5 pm and on Sunday 11 am to 5 pm.

So can someone tell me what happened to summer? It seems like we waited and waited and now it's almost gone.
Steve & Pam h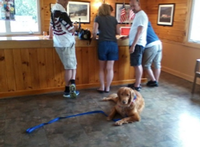 ad a fantastic summer visit with kids and grandkids, enjoying Seneca Lake in all its splendor.
I took a couple of trips back to Connecticut to visit my "kin" -- we shared a few bottles of delicious Heron Hill wine, along with some amazing food and lots of great laughs. At the Tasting Room on Seneca Lake, we enjoyed seeing many familiar faces and making many new friends. Since our tasting room is "Dog Friendly" we have lots of great friends that happen to have 4 feet. Here is Ryder lounging in the tasting room while "mom & dad" sample the new wine vintages and talk with Nancy.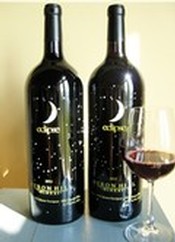 The 2011 vintage of Eclipse Red is quickly becoming a favorite. Heron Hill's signature Bordeaux-style blend of Cabernet Franc, Merlot and Cabernet Sauvignon was first bottled in 1991. The 2011 Eclipse Red was aged 24 months in French, Eastern European, and American oak barrels. For the first time in over ten years, this vintage of Eclipse Red was also bottled in 1.5L magnums. Magnums are only available to purchase in our tasting rooms at this time and are a perfect size for a dinner party! This wine pairs so well with red meat and hearty lasagna for dinner but what about Chicken with a Red Wine Cream Sauce?
Chicken with a Red Wine Cream Sauce
Heat 2 tablespoons of olive oil in a large skillet over medium high heat, add 1 tablespoon of minced garlic and 2 lbs. of chicken breasts.
Cook about 10-12 minutes on each side, until juices run clear.
Remove chicken to platter and add to skillet:
2 teaspoons smoked Paprika
2 tablespoons dark brown sugar
1 teaspoon salt and ½ teaspoon black pepper
1 teaspoon dried Thyme
¾ cup of Eclipse Red Wine
Heat and stir until all ingredients are well blended. Put chicken back into heat through 8 to 10 minutes, spooning sauce over the chicken breasts from time to time.
Remove chicken to clean serving platter and add to skillet:
2 tablespoons of butter
2 tablespoons of heavy cream
Wisk until smooth and thick. Pour sauce over chicken breasts and serve with fluffy rice and roasted seasonal vegetables.

As the days grow warmer, we've welcomed a couple new members to our great team...Rachel joins us with extensive wine knowledge and a fun, easy going personality. She is our local children's librarian and always enjoys a literary discussion. You can find her at the wine bar as well as conducting Black Button spirits tastings on Sundays. Look for a Heron Hill Book Club coming soon!
Chanel proves that great things really do come in small packages. She is a local college student with lots of energy, enthusiasm and a beautiful smile!
We are happy to welcome these two new members to our team, and look forward to continuing to provide our visitors with an engaging tasting experience season after season.
In early April, the Tasting Room on Seneca Lake started pouring samples and selling a selection of small batch crafted spirits from Black Button Distilling. Made right in Rochester, NY this is another fine example of the excellent quality products being made right here in our own backyard. Stop by our tasting room to try the Wheat Vodka, Citrus Gin and Moonshine Whiskey!


Saturday, May 10th – Local Cheese & Heron Hill Wine
Bring your mom to the Heron Hill Tasting Room on Seneca Lake for samples of delicious locally made cheeses from Sunset View Creamery, paired with a wonderful selection of Heron Hill wines. Enjoy complimentary cheese with your wine tasting!