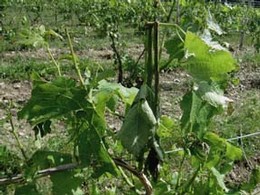 They say that a vine must struggle to make great wine. If that's the case then this year should be a great vintage. After our "winter that wasn't" awoke the vines too early, they were smacked by frost with mid-twenties temperatures in the first week of May. There was loss of 20-50% of the crop, depending on your micro-climate. This was a situation where your location was crucial to spare you from frost damage. Heron Hill on Keuka Lake happens to be in one of the coldest, most difficult locations in the Finger Lakes and they lost about 30% of the Riesling crop. Ingle Vineyard on Canandaigua Lake is more favorable, being at lower alt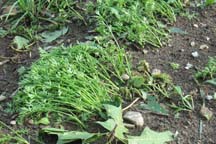 itude, down by the lake. There, frost damage was minimal, at 5-10%.
Last week, just as I was about halfway through my "Thank you, I'm so grateful, mother nature" soliloquy, we were broadsided by one of the most intense storms that I've experienced in forty years of farming. Fifteen minutes of hard driving, marble-size hail, strong winds and rain. Time stopped, you couldn't drive or walk in this stuff. When it had blown over, the vines were beaten and bedraggled. The leaves were torn as if by cats' claws, and the canes were snapped off half-way like they'd been hedged. There were dead leaves everywhere. In shock and dismay, I surveyed the damage. The fruit was mostly intact. We won't know until after bloom, but there is a silver lining to the dark cloud of potential disaster.
We'v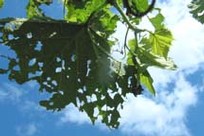 e just barely made it through May and it already seems like it's been a long summer. After almost 40 vintages, it does seem like they tend to slip by, but one never knows what pot of gold may lie at the end of rainbow – only time will tell.

Pyromaniacs!
Since we have had a mild winter, allowing us to get a lot of work done in the vineyard besides pruning, bud break has been early. And an early bud break means that the open buds and young leaves are very sensitive to frost. When the bud is swelling up or is "in the cotton", it can endure temperatures down to 28 F before seeing significant damage. It was the case in early April. But once the young leaves are apparent, the threshold rises to 30 to 32 F.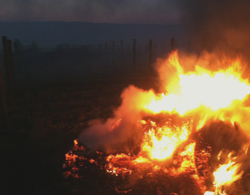 Well, for the last three days, we have had brutal cold temperatures at night. Tonight is technically Monday morning, April 30, 3 o'clock in the morning. It is the third night we have been burning hay bales in order to protect the young buds. Friday night the lower temperature measured in the vineyard was 25 F, Saturday night the thermometer plummeted to 23 F at five o'clock in the morning, and right now we are at 30 F and expecting the temperature to drop to 28 F by five o'clock.
Needless to say, we got hit by spring frost! The damage is hard to estimate at the moment on the primary buds. Some of them are brown and crisp on the outside, so we can hope that only the outer leaves have been touched. Some others are very crispy: they are obviously lost. Saturday night being the coldest, some of our neighbors were also burning hay bales.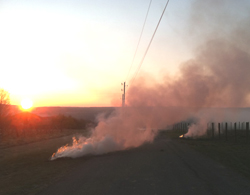 Doing so, as long as the wind velocity is minimal, creates a foggy blanket above the vineyard which limits the loss of heat from the ground, limiting the frost damage. Too much wind can have a dramatic effect: the warm air created by the burning moving out, it sucks in more cold air from underneath, accentuating the frost damage.
At ingle Vineyard, John, Nate and Kyle also burned hay over the weekend. The temperature there did not drop as much as here at the winery. I have good hope that the damage there is minimal. John found himself a sweet spot for his vineyard, on Canandaigua Lake!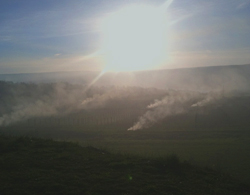 So, for the last three nights, with Zac and Ethan, we have been staying up all night, burning hay bales, and replenishing the vineyard with new ones during the day.
Saturday, April 28 was the first round of our Wine club members VIP tour. The second round is scheduled for May 12. The event is reserved to our Wine Club members and their guests: after meeting in the tower around a glass of Chardonnay, Muscat or Cabernet franc Reserve, the group headed down to the cellar where we sampled a couple of tanks and a few barrels. Lunch was prepared by Mike "Ollie" Oliver, Blue Heron Café Director, and paired with a selection of Heron Hill and Ingle Vineyards' wines. And I added a sneak preview of soon to be released wines. Ollie surprised us with a few discoveries of his own, and a to die for dessert! I don't want to ruin the surprise for the Club members coming to visit us in a couple of weeks. I personally had a blast meeting newer members and seeing some die-hard fans whom I had met last year during this very same event. It was great for me to share wines "in the making" and explain the stage a particular wine we tasted was in and what was still to be done for its completion. Everyone left happy, and so was I! I always have a good time when I talk about wine and share my passion with others! While enjoying some delicious food…
Oh well, it's time to get back outside and check on those hay bales again. The forecast for the rest of the week looks pretty warm, for now.


Participating in a Wine Trail Event? Your questions answered here!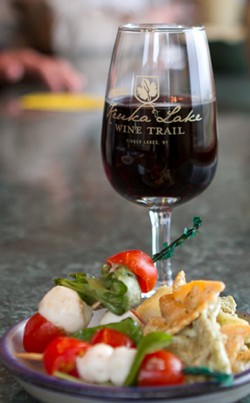 Why did Heron Hill decide to participate in the Keuka Wine Trail?
Heron Hill has been an active participant of the Keuka Lake Wine Trail since the inception. As a participant of the Keuka Lake Wine Trail, all the wineries participate in each and every event. We spend countless dollars on advertising and making sure that we have the absolute best brochure in the region, with a center section dedicated to the 6 events that we do over the course of the year. Established in 1985, the Keuka Lake Wine Trail aims to provide a high-quality, lively experience where guests will feel excited by the food, wine and scenery and stimulated by the conversation.
You can download the brochure at: http://www.keukawinetrail.com/contact-us/
How many people, would you say, the events draw?
Each event draws a different size crowd, for the "off season" events (Cheese & Wine Lovers, this past February, Viva Italia on March 31 & April 1st and Keuka in Bloom May 5 & 6), we generally expect to draw about 500-600 people. It is a very manageable number considering that the event is spread over 8 wineries over 2 days. The "in-season" events (BBQ at the wineries, June 9 & 10 and June 23 & 24, Harvest Celebration, Sept 15 & 16 and the Keuka Holidays Nov 10 & 11 and Nov 17 & 18) are generally sell outs or close to sell outs. The number of tickets sold range from 800-1200 over the course of a weekend.
What can you tell me specifically about Viva Italia?
Each of the eight member wineries around Keuka Lake will prepare a rich variety of food inspired by the flavors and cooking styles from different regions in Italy. Samples of food will be served with complementing local wines. Event attendees will sample a delicious variety of dishes prepared with high-quality ingredients and wineries will make recipes available to enjoy at home. A preview of the event menus includes pasta e fagioli, gorgonzola tortellini, roasted red pepper polenta, zuppa di scarola, pistachio biscotti and lemon-almond cookies.
What are you most looking forward to about it?
I am very excited to see what the attendees thought about all the different regional styles of food. The different regions of Italy all have such varied cuisine and I believe that all the wineries are taking advantage of it!
What would you say people enjoy most about the wine trail events?
All of the returnees are generally commenting on what delicious wines all the wineries have, saying things like "They have great wines and the services has always been warm and welcoming" & "A must-stop on your tour of Keuka!" Another returnee raved about the amount of food they received, the wine tasting, recipes, etc.... Great fun, great wine! They commented on how much they enjoyed the view, the wine, the drive and the smiles.
When does it start?
Event hours are Saturday 10 a.m. to 5 p.m. and Sunday 11 a.m. to 5 p.m. Event attendees may visit all eight wineries in one day or plan an overnight stay to spend more time enjoying the area's other attractions.
Where should they begin? How much does it cost?
Two ticket options are available for this self-guided food and wine event. Sunday-only tickets are $19.00 per person; tickets for the full weekend are $25.00 per person. All ticket holders will receive a souvenir wine glass. When the ticket holder purchases their ticket, they will be assigned to a starting winery and will then start on their highly manageable drive around the Keuka Lake. It can be done in a day, still allowing time to stop at each of the unique eight wineries on the trail or it can be broken up over the weekend. The striking overlooks, on-the-water restaurants, parks, antique barns and charming villages will encourage you to slow down – spend a few days and discover what makes the Keuka Lake Wine Trail different.
Where and how do I purchase my tickets?
Purchasing tickets in advance is highly recommended as most events sell out. A limited number of tickets may be available at the door for a $5.00 surcharge. For all Keuka Lake Wine Trail events, conveniently purchase tickets by calling 800.440.4898, by visiting a Wegmans customer service desk or online at www.keukawinetrail.com.

With the Tasting Room at Bristol closed for the season, I'm off and running to seek out new homes for our Heron Hill Wines. It's been a great season for this, since our weather has been unseasonably mild. No worries about traveling in snow and ice.
In the Wholesale Department, January is a relatively slow month, most people are resting from the busy holiday season which begins just before Thanksgiving. The shelves are still loaded with wines, store inventories are being done and staff is regrouping for spring.
I've been visiting prospective clients for over 7 years now, it has been a breath of fresh air to hear more and more customers wanting to support New York's growing wine industry. Their consumers are asking for NY, and the retailers and restaurants are listening.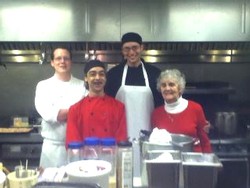 It is a shame that it has taken so long for this to happen, but it's here and wholesale staff is ready to present Heron Hill all over the State. John Coco, Sales Director has led his team (Mike Oliver and I) to all parts of NYS and we have been having great success.
Last month, I travelled to Oneonta and Binghamton to find several restaurants that listened to their customers and want to bring Heron Hill wine to represent their voids in wine lists. We have several features starting next month: The Oneonta Depot and Bella Michaels.
The Oneonta Depot, which is a charming old train station whose food looks fantastic. Too bad we were on such a tight schedule, after looking at the menu, I would have loved to try it. They will be featuring Heron Hill Chardonnay and Riesling, which we are very excited about. Bella Michaels, an Italian restaurant will be featuring our Pinot Noir and Chardonnay this month. This is very exciting for us, since we are not very prevalent in this market.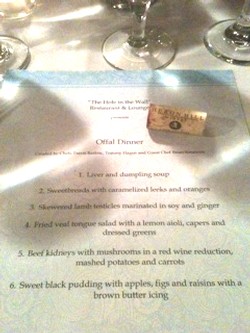 One of the most interesting restaurants that I have gone to is in Perry, New York. The Hole in the Wall, which opened in 2001, brings upscale and innovative cuisine. Anita Billings, her daughter Jacki and son-in-law Travis have wowed their customers with their creative wine dinners. Weeks ago, Jacki and Travis visited Heron Hill on Keuka and tasted several wines. We're excited that they've chosen Heron Hill for their annual dinner in July. This dinner is a real adventure, its beautifully prepared and presented, with distinct taste and is all around delish! We're looking forward to July's dinner to see what the staff at the Hole in the Wall has up their culinary sleeves.
All-in-all life on the road has brought me some pleasant surprises and I am looking forward to educating new customers about Heron Hill wines.


One of Mother Nature's alarm clocks is ringing. Actually it's plinging, like the sound of dripping maple sap from a spigot into a metal bucket. The pace can be slow and steady or it can be surprisingly fast, almost pouring out of the tree. To those tuned into the rhythms of nature, this is a wake up call. Here is a photo essay of an upstate maple syrup session. And that's just the first batch of what could be 4 or 5 passes!

After some much needed rest and relaxation over the holidays, and some quality family time, December came to a close. I had rewarded myself with some much needed time off to wrap up the year, but I hit the ground running at the beginning of January.

This time of year sends me back out on the road to work in the Wholesale market. Traditionally, most of my accounts aren't interested in sampling wines or discussing new vintages in January because they tend to be "hunkering down" for a slower winter season. Amazingly enough, I have seen some good interest in our wines given this time of year!

I had the opportunity to work with several of our distributor's sales representatives lately. These trips have taken me from Jamestown to Binghamton. Despite some long hours on the road, they have all paid off; I have had a banner January!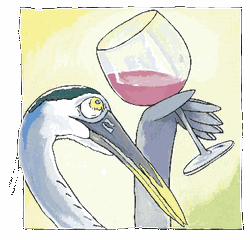 On the Blue Heron Café end of things, this time of year normally gives me a chance to revamp my menu and work on improvements for next year. I have had several meetings with Kara, Tambi, and Paul on a variety of topics. Paul and I have scheduled all of the live music for next year, be sure to look up the schedule (soon to be released)! Tambi and I have discussed Keuka Lake Wine Trail events and I have met with Kara to make sure that we are doing everything that we can to make things go as smoothly as possible.

Looking forward to next season, I'm excited to say that I expect nearly all of my staff from last year to return! With this stumbling block out of the way, I will be able to concentrate on getting the doors open and the food ready to go.

I was able to prepare lunch for a small group that joined us from the New York City area. These buyers came to the winery to try samples from us and three other wineries. I prepared a very nice buffet lunch for the assembled group and the winery representatives that were pouring from them. The group really enjoyed the event!

In the near future, I will have several meetings to look at some possibilities for next season. We have some big plans for the future, but need to get some things moving to be ready for May! For a sneak peek, make sure that you join us for Happy Hour on Wednesdays this summer – some of them will have live music!

The holidays are over. We have all had time to settle into our new year's resolutions, or give them up. We are all itching for spring.

I however, enjoy this quiet time of year. I spend a few months reflecting on my past wedding season, planning for the future season and of course plan on doing a little Finger Lakes wine tasting!

My friends and I love visiting the local vineyards this time of year. I can never seem to get enough of Damiani's Syrah or Shaw Vineyard's Cabernet Sauvignon. Yum!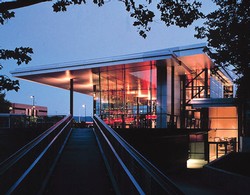 Recently, a group of us attended the Corning Museum of Glass 2300˚ event. The January event, Fire and Ice, brings about 35 local wineries together. You get to sample delicious wines while listening to music and watching talented artists blow glass. This is one winter event we are sure to never miss.

A new favorite event of mine is coming up on us rather quickly, the Keuka Lake Wine Trail Cheese & Wine Lovers event. With Valentine's Day right around the corner, this is the perfect gift for you and your sweetie. What a way to celebrate - with wine and cheese!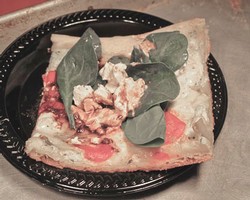 Here at Heron Hill Winery we will be serving Sundried Tomato Chicken Pizza paired with our Classic Dry Riesling. Lively Run Goat Diary will be here sampling all of their tasty goat cheeses and offering them for sale. I love the variety of chevres that they produce. It is creamy and light. It goes great it stuffed mushrooms too.

If you are interested in more information about this event you can purchase tickets on the Keuka Lake Wine Trail's website, weekend tickets are $18 per person.

Don't forget to stop in and visit us here at the winery. Tambi and I love to pour wine and catch up with our favorite customers this time of year!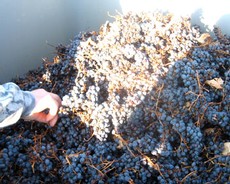 As of last week, we are officially done with harvest. The last crop we picked is a Late Harvest Cabernet Franc we had let hang on the vines at Ingle Vineyard. There will be no Icewine this year, but we are very pleased with the Late Harvest Vidal, the Late Harvest Riesling from Ingle Vineyard and the Late Harvest Cabernet Franc.
In the vineyard, pruning will start with the New Year. In the cellar, we are monitoring the Malolactic fermentations on the 2011 reds, and starting to stabilize the 2011 whites so they will be ready to be bottled in the spring. The 2011 harvest has been one of the biggest harvests at Heron Hill Winery, and somewhat challenging because of the weather conditions and a cellar filling very quickly with freshly pressed juice. Now we have more time to take a more regular pace, after the excitement of the harvest season. But there is always something to do on a vineyard and in a cellar.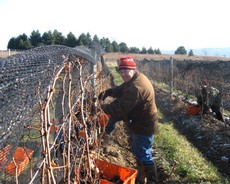 As the holidays approach, I would like to take the opportunity to wish you all a "Joyeux Noël" (Merry Christmas) and a "Bonne Année 2012" (Happy New Year 2012). My wife and I will spend Christmas on Long Island with her Family. Being Italians, they have "The Feast of the Seven Fishes" every Christmas Eve. It is an occasion to see relatives we do not have the chance to visit as often as we wish. There is not that much fish though, mostly lobster tails, shrimp and clams in different sauces and styles. I usually bring some Heron Hill Semi-Dry Riesling, which tends to please everybody. The Heron Hill Muscat remains the favorite for the appetizers.
Traditionally, my mom in France makes the "Bûche de Noël" (Yule log). It is not an easy task to undertake. I have tried to make it myself a couple of years ago: the taste was great, but the cake collapsed and looked more like a layered cake than a round log. But my mom also makes festive dishes that are much easier, which I am able to recreate, given that my mom never uses measuring cups. She was a chef for forty years and never used any of these. She would say: "use a small glass of flower, like the ones we use for dinner, the small ones, not the tall glasses, and overfill it up a little but not too much… Well, you'll see…" Thanks mom, I am so glad I called! It is so clear to me now! So, most of my recipes are done by taste.
For the Holidays, my mom always made Flambée Shrimp. It is so easy and spectacular too. Here's her recipe:
Flambée Shrimp for the holidays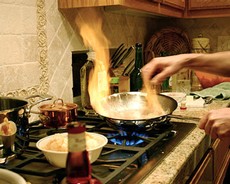 First, sauté some chopped garlic in a frying pan with olive oil (which can be replaced by butter). When the garlic is slightly brown, add the raw shrimp and sauté them on one side for a couple of minutes. Flip them and sauté them on their other side for another couple of minutes, or until almost cooked (can't you feel the resemblance with one of my mom's recipes?) You can add some salt and pepper to taste during this step. In the meantime, in a small saucepan, warm up some Whiskey or Rum, about 1/4 cup. When the Whiskey is smoking (it does not have to be boiling), TURN OFF ALL BURNERS ON THE STOVE (you will see how important that is!), place the frying pan in safe surroundings, clear of flammable objects (I usually leave the pan on the stove as it is a pretty safe spot in my kitchen), pour the smoking Whiskey over the shrimp, and with a long match, ignite the Whiskey. The alcohol will burn with a blue light. You can wait until all the alcohol has burned down, or you can stop the flambée by covering the frying pan with its cover. That will give an extra kick to the dish. If we have guests (I also make that dish just for my wife and I occasionally), they often get awed by the show!

I traditionally use raw shrimp with their shell, and they are eaten as an appetizer. They are quite tasty on their own, but I like to make a homemade Mayonnaise or Aioli.
Homemade Maynnaise or Aioli for the Flambée Shrimp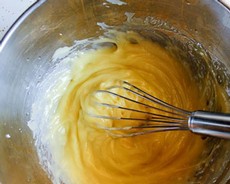 Again, it is very simple: put one to two egg yokes in a bowl, add a pinch of salt and pepper. Then, with a small whisk, start whisking and add olive oil VERY SLOWLY. Towards the end, you can add finely chopped fresh garlic to make it an Aioli ("Ail" means garlic in French). Just dip the shelled shrimp in the Aioli, and enjoy! Here too, the Heron Hill Semi Dry Riesling or Muscat complement the dish very well.
I have made a variation of this recipe to make a main dish at last Valentine's Day dinner I had with my wife at our house. I first sautéed the shrimp in garlic and olive oil until almost cooked, then set them aside in a plate. I then sautéed a little more garlic in Olive oil, and then added some scallops. I did not want to mess up the cooking of the scallops. That is why I decided to cook the shrimp and the scallops separately. Better be safe than sorry on a romantic date… When they were almost ready, I added the shrimp back in the pan with the scallops and then poured the warm spiced Rum, ignited it, and after the alcohol burned off, I poured the shrimp and scallops over pasta. Et voilà! It was quick, efficient, and it looked like I was a skilled French chef! Because the flavors were not as prominent with the pasta, Eclipse White or Ingle Vineyard Chardonnay pair extremely well with the dish.
Enjoy the holidays!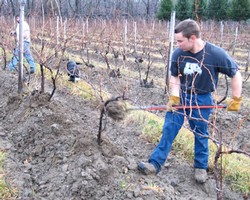 It's December, time to turn the page. It seems as if each month has a focus, October was harvest, November has been shoveling up the dirt onto the vines to protect them throughout the winter cold and December begins the pruning that will continue until March. Hand pruning some 14,000 vines at a rate of 150/day takes all winter, almost every workday until April 1st when the "season" begins. Parallel to the vineyard work is the garden work. (And I use the term "work" in the positive sense as in project or pastime.)
Our game-plan with the garden is to work (focus) for seven months and then enjoy the fruits of our labor for the five winter months. We freeze a lot of our food; spinach, peas, corn, broccoli, beans, all freeze well. Fruits also are stored frozen or dried including pears, strawberries, peaches, raisins, etc. Mother Nature does a beautiful job preparing us for winter storage with root vegetables. Our root cellar is chockfull with potatoes, carrots, beets, parsnips, brussels sprouts, onions, garlic and the "best thing you never ate": celeriac!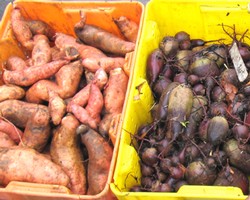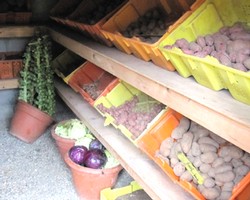 Sprinkled with olive oil, and oven roasted at 400 degrees for 20-30 minutes, along with slices and chunks of the other root crop, it tastes nutty and unique like nothing you've ever had. Try it. Celeriac is also good boiled, mashed and added to mashed potatoes - ah the bounty.
For over 40 winters we've pruned the vines in the daytime and savored the fruits of our labor at night - what's wrong with that game-plan?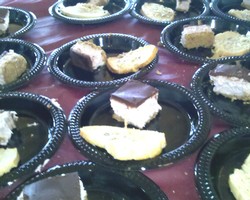 What a great season, I made it through October and just finished two busy sold-out weekends of Keuka Holidays, two of our biggest weekends of the year! We had a record-braking crowd on the first Saturday with over 1000 people through the door…wow was I tired! We served a fabulous Roasted Red Pepper Soup topped with an Asiago Crisp and a side of Eclipse Red Raspberry Cheesecake. We received rave reviews from everybody, check out the links for the recipes!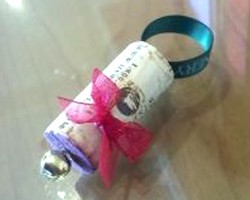 This year we had one of our staff members, Lauren, hand make 1,200 cork ornaments. Lauren spent countless hours tying bows, cutting ribbons and gluing jingle bells on each cork. I think Lauren recruited a few of her friends to help her with this project…maybe enticing them with a home cooked meal and lots of wine!
As the 2011 season winds down, we are already gearing up for 2012! I have already booked tons of groups for the upcoming season, especially October (one of the busiest months). I am also working on ordering a great present for our wine club members (sorry…can't reveal the secret yet!). The final shipment of the season is always a great one with two of our most special wines leaving the building…the Gold Club is even receiving an unreleased wine!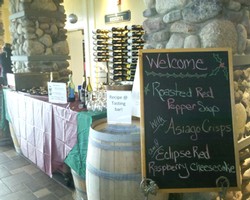 As I get ready to take a small breather, Bernard (our winemaker) just stopped by and said that we are going to hand-pick our Late Harvest Vidal Blanc next Wednesday! Even though it is my day off, I am a trooper and will be there with bells on! I am just thinking about what I will bring for a hot drink to keep me warm while picking, maybe hot mulled cider with a little Goldschläger?
Remember now that it's the slower season, (the best time to visit in my opinion), you can stop, visit and taste for an hour or two and we can try to solve all the world's problems!