So can someone tell me what happened to summer? It seems like we waited and waited and now it's almost gone.
Steve & Pam h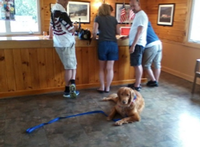 ad a fantastic summer visit with kids and grandkids, enjoying Seneca Lake in all its splendor.
I took a couple of trips back to Connecticut to visit my "kin" -- we shared a few bottles of delicious Heron Hill wine, along with some amazing food and lots of great laughs. At the Tasting Room on Seneca Lake, we enjoyed seeing many familiar faces and making many new friends. Since our tasting room is "Dog Friendly" we have lots of great friends that happen to have 4 feet. Here is Ryder lounging in the tasting room while "mom & dad" sample the new wine vintages and talk with Nancy.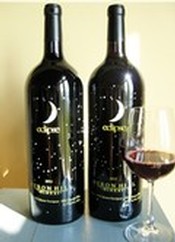 The 2011 vintage of Eclipse Red is quickly becoming a favorite. Heron Hill's signature Bordeaux-style blend of Cabernet Franc, Merlot and Cabernet Sauvignon was first bottled in 1991. The 2011 Eclipse Red was aged 24 months in French, Eastern European, and American oak barrels. For the first time in over ten years, this vintage of Eclipse Red was also bottled in 1.5L magnums. Magnums are only available to purchase in our tasting rooms at this time and are a perfect size for a dinner party! This wine pairs so well with red meat and hearty lasagna for dinner but what about Chicken with a Red Wine Cream Sauce?
Chicken with a Red Wine Cream Sauce
Heat 2 tablespoons of olive oil in a large skillet over medium high heat, add 1 tablespoon of minced garlic and 2 lbs. of chicken breasts.
Cook about 10-12 minutes on each side, until juices run clear.
Remove chicken to platter and add to skillet:
2 teaspoons smoked Paprika
2 tablespoons dark brown sugar
1 teaspoon salt and ½ teaspoon black pepper
1 teaspoon dried Thyme
¾ cup of Eclipse Red Wine
Heat and stir until all ingredients are well blended. Put chicken back into heat through 8 to 10 minutes, spooning sauce over the chicken breasts from time to time.
Remove chicken to clean serving platter and add to skillet:
2 tablespoons of butter
2 tablespoons of heavy cream
Wisk until smooth and thick. Pour sauce over chicken breasts and serve with fluffy rice and roasted seasonal vegetables.

Barrel samples... tank samples...hanging out with the owner & winemakers…what could be a better way to spend the day than as a wine club member of Heron Hill Winery? As the Wine Club Manager, I enjoyed the time planning, cleaning and getting ready for many of our club members to come to the Spring Barrel Tasting held on Saturday, May 10th.
We started with a "welcome wine" in the Bottling Room where wine club members received nametags and had the opportunity to meet and mingle. The welcome wines were a choice of Classic Muscat--a fun springtime wine, aromatic, floral and slightly spicy off-dry, or our Classic Cabernet Franc--a deep, rich wine with raspberry & cherry, and slight licorice spiciness to offset the deeper fruit. Both wines were a huge hit and got the group off to a lively start.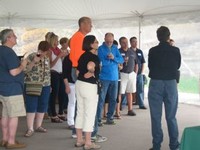 Next, I sent half of the group to the cellar to taste barrel & tank samples with the winemaker Bernard Cannac, and the new addition to our winemaking team Mark Patterson. In the cellar, we were greeted with a gourmet Finger Lakes meat & cheese board to accompany two barrel samples and three tank samples. The two barrel samples were both Cabernet Franc from Jeff Morris of Glenora Farms/Morris Vineyard, but they were in different oak barrels, so it was interesting to compare and contrast. Many of the wine club members were surprised how the flavors were so different just from spending time in two different oak barrels. The first two tank samples were both Rieslings from different lakes, one from Seneca Lake (west side) and one from Cayuga Lake (west side). This was a lesson in terroir, and again the club members were astonished with the differences and still slight similarities of the Riesling (soon to be wine)! The final tank sample was Pinot Blanc from Morris Vineyard, a favorite among the samples!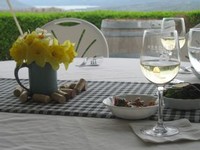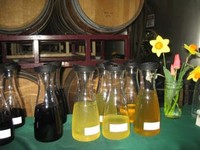 Meanwhile, the other half of the wine club members headed to the Tower where they were treated to a fresh hummus & crudités tray while talking with the owner of Heron Hill Winery, John Ingle. He spoke about the vineyard conditions and how the winter affected the berries for this upcoming harvest.
In the Tower, we were happy to announce that Heron Hill's Classic Dry Riesling 2012 is featured on the front cover of the June issue of Wine & Spirits magazine and named a '100 Top Value of the Year' with 92 points and a feature on pairing the Dry Riesling with Atlantic seafood. We were also excited to share that we received Double Gold for our Reserve Pinot Gris from the Finger Lakes International Wine Competition!
Request information on joining a Heron Hill Wine Club here >> http://www.heronhill.com/Wine-Clubs
Choose between the Platinum Club or Gold Club. Both wine clubs receive 2 bottles shipped every other month along with a newsletter and recipes. Wine Club members enjoy 20% off most wine purchases throughout the year along with many other perks!

As the days grow warmer, we've welcomed a couple new members to our great team...Rachel joins us with extensive wine knowledge and a fun, easy going personality. She is our local children's librarian and always enjoys a literary discussion. You can find her at the wine bar as well as conducting Black Button spirits tastings on Sundays. Look for a Heron Hill Book Club coming soon!
Chanel proves that great things really do come in small packages. She is a local college student with lots of energy, enthusiasm and a beautiful smile!
We are happy to welcome these two new members to our team, and look forward to continuing to provide our visitors with an engaging tasting experience season after season.
In early April, the Tasting Room on Seneca Lake started pouring samples and selling a selection of small batch crafted spirits from Black Button Distilling. Made right in Rochester, NY this is another fine example of the excellent quality products being made right here in our own backyard. Stop by our tasting room to try the Wheat Vodka, Citrus Gin and Moonshine Whiskey!


Saturday, May 10th – Local Cheese & Heron Hill Wine
Bring your mom to the Heron Hill Tasting Room on Seneca Lake for samples of delicious locally made cheeses from Sunset View Creamery, paired with a wonderful selection of Heron Hill wines. Enjoy complimentary cheese with your wine tasting!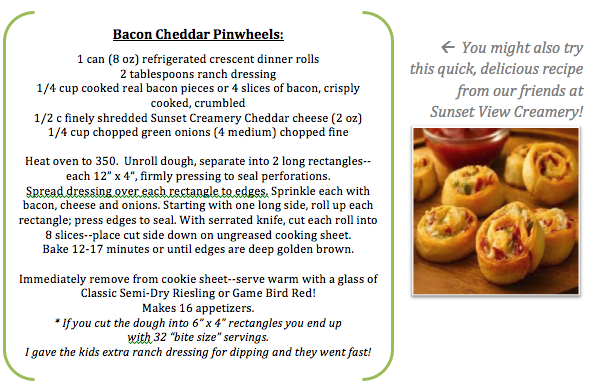 Even as the pulse of the spring chores accelarates in our vineyards along Canandaigua Lake, I pause to reflect on the maple syrup harvest that already seems some time ago. We tapped the trees in mid-February as we usually do. There was a brief warm spell that yielded five gallons of sweet, light amber syrup. After that is was cold, cold, cold, well into mid March. We harvested another 15 gallons from our seventy taps but being as late as it was, the syrup was noticeable darker. Toward the end of the season the maple trees bring more solids up from the roots causing the darker color. Old time Vermonters know that this darker syrup isn't the favorite choice of syrup connoisseurs but that it does have more flavor and viscosity, so they gladly charge tourists top price for light amber syrup while they smile and enjoy the darker stuff. We ended up with a large yield after all – about 20 gallons – and the cupboards are full awaiting visiting grandchildren. So begins the growing season of 2014 – promising challenges and opportunities as we await bud break at Ingle Vneyard with possibilities of extensive bud kill. Time will tell how severe the damage is—probably by mid-May we'll have a better sense.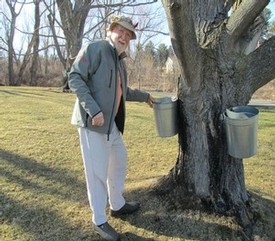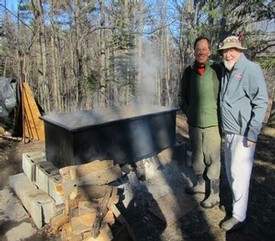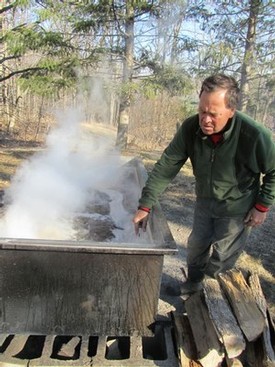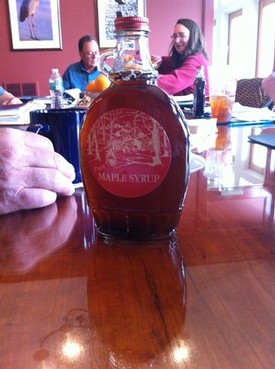 The master about to give his product his critical taste test. Fresh maple syrup for a morning staff meeting at the Winery.
Here's a more detailed re-cap of our family's process (originally posted in Feb. 2012): Maple Sugaring at Ingle Vineyard >>

A couple of weeks ago, I was able to visit my family in France. It was very relaxing to be able to spend some time with my family and close friends. It has been a gastronomic adventure. Every year, I make a point visiting some friends in an overnight stay. My friends work in the vineyard industry and distillery industry. Interestingly enough, we met twelve years ago…on Long Island, NY. And we realized we were from nearby villages in Languedoc. We have been in a few interesting places through the years, and this time it was a buffet, "French Style": all you can eat foie gras, smoked salmon, shrimp cooked in many different styles, and a variety of other French specialties. I had to have frog legs of course! One of my plates (and there were a few!), had most of the "delicacies" I miss in the US: tripes, veal kidneys, chicken hearts and quail; the "vegetables" were sautéed mushrooms with potatoes (no room to waste with greens that evening!). And to pair with it, we had bottles of a local red wine from the "Abbaye de Fonfroide", a medieval monastery. Although I wish I would have been able to share a bottle of Heron Hill Blaufrankisch with my friends. As you can see, I also stacked on some iconic French desserts: I love Canelés, and "Baba au Rhum" has been one of my favorite desserts since my childhood. We stuck with our trusty red for dessert, but Heron Hill Late Harvest Vidal Blanc would have paired perfectly with both desserts. Oh and I had to sneak in some more cheeses even on my dessert platter!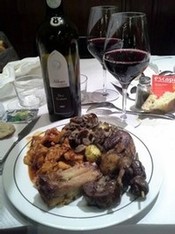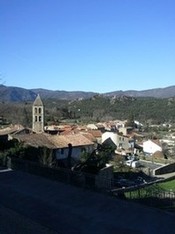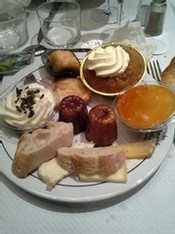 A few days after this food orgy (no, it was not an overdose…), I went with my family to an exclusive restaurant lost in a tiny village in the back country, called l'Ortensia, in Saint-Gervais-Sur-Mare: wonderful landscape and amazing food, focusing on nature-friendly local farmers. We had fresh foie gras (I can't have enough of it…), perfectly cooked scallops duo with beets and a spicy lemon gelée. The main course was veal tenderloin with crispy bacon, homemade potato chips, Brussels' sprouts and salsify served with a green pea purée. It was just exquisite. To accompany most of our meal, we had a Côtes du Roussillon called "Les Sorcières", which means "The Witches". It was a young wine, very rich and fruity with bold tannins: a delicious match.
My wife could not accompany me this time around...so I promised her we will visit l'Ortensia next yea!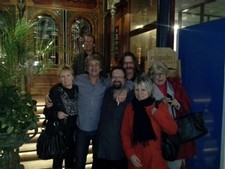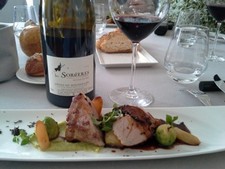 Last week the mornings were bright, and the vineyards and lake glittered with snow along the west side of Keuka Lake. Trimming stiff vines in single-digit temperatures, doesn't evoke the same romantic image as handpicking juicy, ripe bunches of grapes under the golden light of harvest. However after spending some time with our vineyard manager, I found myself completely fascinated by the process of pruning the vines. Despite tending my own small garden and plants, and growing up in wine country, it still seems miraculous to learn how much life will sprout out of one tiny bud in less than 6 months. From each bud a cane will grown and support multiple clusters of grapes.
Don Riesenberger joined the Heron Hill team last summer as vineyard manager on Keuka Lake. He's very at ease and confident in the vineyard explaining to me why it looks like he's cutting back so much and how he's keeping extra buds on the canes this year. From recognizing a strong spur at the base of the vine to removing just the right amount of new growth, it quickly becomes clear how critical this stage is to maximize the potential of the individual vine. We have control over pruning techniques; we don't control Mother Nature.
"When you look at a vine, you consider what happened last year, what will be different this year, and plan for next year, " demonstrated Don.
Don grew up in nearby Naples and has early memories of tying when he was just tall enough to reach the low growth in his father's vineyards. For 28 years, Don worked as a warehouse manager for Constellation Brands in Canandaigua—and now he's enjoying spending most of his days outside. Don and his wife live on a hillside between Naples & Canandaigua, and have one son currently in college. Heron Hill is very happy to have him around and welcomes his experience, humor, and professionalism.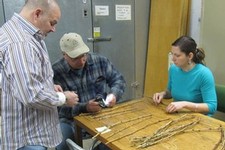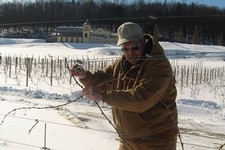 Eric, Don, & Erin checking buds Don pruning young Riesling vines.
Heron Hill has approximately 12.5 acres planted in front of the Winery on the west side of Keuka Lake. The vineyards primarily consists of Riesling ranging from young vines just 1 year old to well established 10 year old vines. Don is also in regular contact with our crew at Ingle Vineyard located on the west side of Canandaigua Lake where some of the vines are over 40 years old. Across the Finger Lakes this winter the fluctuating temperatures, with "arctic blasts" below 0 degrees, have caused concern for vinifera vineyards of all ages. Don explained the different roles of the primary bud, secondary and tertiary bud. We have checked cane samples weekly, although we're seeing healthy signs of green now, it's still too early to tell how fruitful the vines will be this vintage.
I chatted with Don today on this grey, rainy Friday where we're expecting the temperature to reach nearly 50 degree. This pop of warmth will prove perfect for starting the flow of maple sap, but it's potentially dangerous for vulnerable fruit buds when next week's forecast predicts frigid temperatures again.
"What's you're favorite season?" I asked Don. "I actually really enjoy tying in the Spring" Don replied. "There's something about when everything is starting to bloom and working outside while the birds are singing…" Pruning will continue into March, then after the support posts are checked and wires are tightened, tying will begin. The more I learn about grape growing and wine making, the more I appreciate the process and respect the risk people take in this industry. There's no question, everyone's eagerly awaiting the arrival of Spring this Year!

The 2013 harvest is over, after we picked the Riesling Icewine on the third week of November at Ingle Vineyard on a cool site overlooking the west side of Canandaigua Lake. Yes, it got that cold before Thanksgiving! The 2013 whites are either done with the alcoholic fermentation or finishing it slowly. A cool fermentation for white wines helps preserve the aromas from the varietal and also from the fermentation itself. A cool temperature means a long and slow fermentation.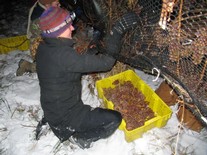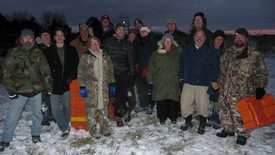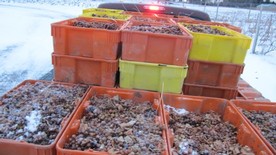 (Scenes from harvesting Riesling for icewine)
The reds need a higher temperature during the alcoholic fermentation to help the extraction of tannins from the skin and seeds. The alcoholic fermentation is therefore much quicker, a matter of days to a week. The rest of the time spent on the skin is called post-fermentation maceration. The red wines have been pressed off the skin and are now going through the secondary fermentation, or Malo-lactic fermentation: malo-lactic bacteria transform the sharp malic acid (found in apples) into the softer lactic acid (found in yogurt). This makes the red wines softer and rounder. Our white wines do not go through Malo-lactic fermentation in order to preserve their natural acidity.
For me, Christmas is a family holiday, in contrast with the New Year celebration which is more of a "friends get-together." It has been a tradition for my wife and I to spend Christmas Eve with her cousins on Long Island for the "Feast of the Seven Fishes." You might have guessed it: they are on the Italian side of the Family. As the name suggests, all the dishes are seafood based: shrimp cocktail, baked clams, broiled lobster tails, clams in a white wine sauce over pasta…and lots of desserts!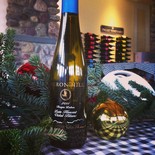 (Heron Hill Vidal Blanc 2011: Gold medal Finger Lakes International Wine Comp.; 90 points Wine & Spirits)
Interestingly enough, we bring the wines: Heron Hill Muscat is a favorite, along with the Semi-Dry Riesling and Ingle Vineyard Riesling. For the red wine drinkers, Heron Hill Cabernet Franc is always a hit, and I might add our Blaufränkisch or Baco Noir Reserve this year along with Eclipse Red 2010. And for dessert, I better not forget Heron Hill Late Harvest! It is a very versatile wine and pairs with many different desserts, as long as the dessert is not overly sweet. An interesting dessert to pair the Heron Hill Late Harvest Vidal Blanc with is a Ricotta cheese filled crêpe flambée. I believe I have shared a flambée Shrimp recipe in the past: you are going to think I am a pyromaniac…well, it surely makes a good show!

Crêpes Flambées with Ricotta cheese filling
For Crêpes:
¾ cup flour
1 cup milk
3 eggs
¼ cup vegetable oil
¼ tsp salt
1 Tbsp sugar
¼ tsp Vanilla extract
For Filling:
400g Ricotta cheese
4-5 Tbsp confectionated sugar
1 ½ tsp lemon zest
1/3 cup orange juice
¼ tsp Vanilla extract
For Flambée:
1/3 cup of either whiskey, dark Rum, aged Brandy, Cointreau,
or Grand Marnier (for a "Crêpe Suzette" approach).

TO PREPARE:
First, blend all the ingredients for the crêpe batter together, then store in the refrigerator for about three hours. This gives you plenty of time to make the filling, which should be made before cooking the crêpes. Just blend all the ingredients together. I chose Ricotta cheese for its creaminess and its lighter taste. To get closer to a Crêpe Suzette, you would replace the Ricotta cheese with half a stick of butter and use orange zest instead of lemon. I like the combination here because I do not want a dominant lemon or orange flavor, but a diversity of aromas. A good substitute for sugar would be honey, and it would actually work even better with the wine!
Using a flat bottom non-stick frying pan (the best is of course the "crêpe-pan), oil well the bottom of the pan. Once the pan is hot, pour a small ladle of batter and swirl the pan so the batter makes a thin and even layer on the bottom of the pan. Cook for about 45 seconds to a min, then flip the crêpe and cook for another 45 seconds, until brown bubbles appear. Place the crêpe on a dish. Repeat with the rest of the batter.
Place about 1-2 Tbsp of the filling in the center of each crêpe. Fold it in half, then in half again to make it look like a wedge or a quarter of a circle.
Place the crêpes in a big heat resistant pan. In a small saucepan warm up the liquor of your choice, then pour over the crêpes in the heat resistant pan, and CAREFULLY light the alcohol with a long match.

Place in a dish, serve and enjoy with a glass of Heron Hill Late Harvest Vidal Blanc! Happy Holidays!

October is always a crazy busy month, except for last year. By the first week of October in 2012 we were done - finished - with the harvest. An early spring - dry, hot summer and smallish crop led to a two to three week early harvest. It was bizarre - but good. 2013 is almost the opposite. A late spring, cool damp summer and a large crop has made us two to three weeks behind schedule. Actually, mid-October, we've just started. We brought in 22 degrees Brix Pinot Noir early this week and are now almost done with the Chardonnay.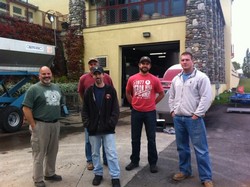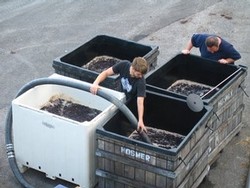 (Some of the Heron Hill Harvest Crew on the press pad; Zeb & Bernard with crushed Pinot Noir)
The damp summer led to many mildew problems. I have talked to growers who had to spray 15 to 20 times for assorted diseases. The average is 6 to 10 times so there was a lot of mildew pressure. Ingle Vineyard, under the supervision of Vineyard Manager Kyle Franzoni and assistant Zeb Archer, has managed to bring a large crop of ultra-ripe, super clean grapes to the press deck. The Heron Hill vineyard, managed by Don Riesenberger, is also looking awesome. Brix (sugar) levels are over 20 degrees and up to 22 degrees. This will bring bold, tasty wines with great depth and character.
Last weekend we shared the harvest duties with sweepstakes winner Jaime Murphy, and her husband James. Not only were they a delight to work with but they really pulled their weight in the vineyard, keeping up with the well-seasoned crew we have. It was a gorgeous day in the Finger Lakes and hand-picking beautiful Pinot Noir, enjoying a vineyard picnic of all organic, home-grown fruits and vegetables, followed by supervising the activities on the press deck at the winery made for a very memorable day for all. Thanks to everyone who helped put this great Heron Hill experience together: Elke, Erin, Kate, Bernard, and especially Sales Director Eric Frarey who came up with this great idea.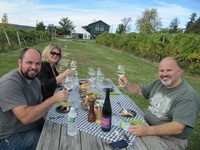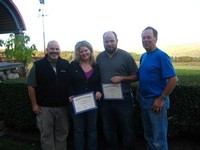 (Sweepstakes winners having lunch in the vineyard; Sweepstakes winners receive certificates from owner John Ingle and sales director Eric Frarey after a successful day.)
As we watch for the rest of the harvest to occur we are full of exuberance and pride as the fruits of our labor promise great things in the bottle!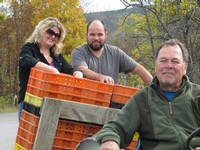 (John Ingle with Sweepstakes winners at Ingle Vineyard)


The 2013 harvest is imminent. Some early varieties such as the seedless, are already ripe and others are progressing nicely with Brix (sugar) levels at 16-18 degrees: the goal is to get to 22 degrees, that would make well balanced wines. They say grapes ripen about 1 degree per week so the next four to six weeks are crucial.
Many of you already know how the weather in the Finger Lakes has been this summer—it's been cool and wet. Lots of vine growth but constant mildew pressure. Last year, 2012, was a hot and dry season with Brix levels up to 25 degrees—good for rich, full bodied wines—what I call a "Pinot Noir Year." In contrast, as in this season, cool damp weather is perfect weather for a "Riesling Year." Crisp acidity, steely, mineral laden, food-friendly wines also including the rising star—unoaked Chardonnay.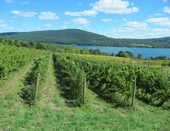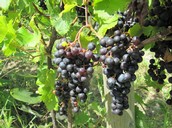 So the stage is set, Mother Nature holds the cards, a couple of cards are "up," but the remaining cards will tell the hand. The only different is we can't fold, just come back next year and do it, again—it's a vintage!

Heron Hill at Bristol has been buzzing with excitement for 2013. Our energetic staff remains the same from last year Joshua, Christopher, Chelsea, Debi, Stephanie and Cindy. We have added two new employees, as well, Suzi and Torin. Our customers are amazed at how beautiful our surroundings are and vow to come back again; and they are! With the close proximity to Rochester, it is an easy day trip to bring out-of-town guests or a leisurely drive from Syracuse or Buffalo. We are also beginning to notice many of our late afternoon customers are stopping before a concert at CMAC or dinner at the great restaurants residing in Canandaigua which is only 20 minutes away.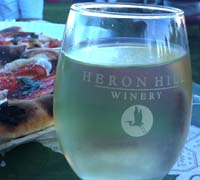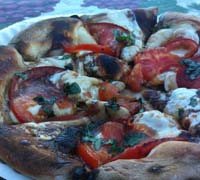 Our newest addition, Fridays after 5 with Wood Fired Pizza, 5:00 pm-9:00 pm, has been a huge success right from the start. For the month of July and August on the 2nd and 4th Fridays, the sounds of live music and the smell of wood-fired pizza fills the air; neighbors and new friends alike share tables for an evening of fun. We've already hosted two of these food & wine events, many people have attended both, and are looking forward to the next. Each week we offer a different genre of music. Our customers have been excited and each band brings its own set of followers which exposes Heron Hill at Bristol to a new set of fans. The setting creates a beautiful family event at a vineyard with music, people dancing, kids racing around….it's just a great evening! There are only 3 weeks left (August 9, August 23 and August 30th), so try to make it to Heron Hill at Bristol for an evening of fun.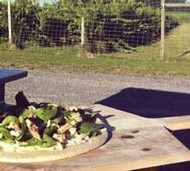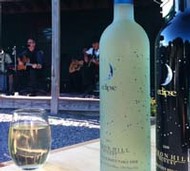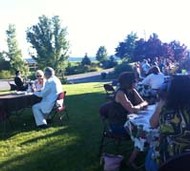 On September 21st, our Third Annual Ingle Vineyard Harvest Festival (12:00–6:00 pm) will be held at our tasting room. Music by DANG!, a country-rock band, wood-fired pizza, cider pressing, fresh popped popcorn, wine, beer and soda will be served. This is a family event as well. There is a baby pumpkin hunt, ring tosses and coloring station for the kids. Bring your lawn chairs and/or blankets, and spend a day at Heron Hill at Bristol.

We are now serving glasses of wine to enjoy outside overlooking the vineyard. If you haven't been in Heron Hill at Bristol on Ingle Vineyard, you are in for a wonderful surprise. We look forward to seeing you.
Upcoming music schedule:
Aug. 9 - Trinidad Band
Aug. 23 - Shared Genes
Aug. 30 - The Bristol Brothers