First, I have to say that it was a pleasure to be able to spend some time with my family and friends back home, in Southern France. The weather was fairly warm and sunny for the most part, which allowed my wife and I to drive in the country side, visiting a couple wineries. But I have to say that most of our time was spent eating and drinking with my family and close friends.
Back at Heron Hill, we are pretty much done pruning, apart from our block of Muscat Ottonel. The main job right now is tying the Riesling vines: on the producing blocks, the shoot we selected during pruning as our fruit bearers have to be tied on the fruit wires; on the plantings, the shoots selected to become the trunks of the mature vine have to be tied to the pencil rods to help them grow vertically.

For the Muscat Ottonel, we have decided to wait until late April to prune it. It is very sensitive to spring frost, and the location where these vines are planted can get very cold in the spring nights. Pruning later will delay bud-break, when the buds of the shoots we retained to bare fruit will come out of dormancy and open up. Throughout the growing season, the buds will become the new shoots, with leaves and grape clusters. That is if they survive the frost bites of these freezing spring nights! Last year in New-York State, bud-break was early due to a soft winter and early warm weather. But from late April to mid-May, the temperatures dropped during the night, as far as the mid twenties, at least in the Finger Lakes! The buds that were out of their winter coat got toasted by the frost. Our Muscat was particularly affected.
In the cellar, we have been busy putting the 2012 reds in barrels, while bottling e few older reds: Eclipse red 2010, Ingle Vineyard Pinot Noir 2010… And we just bottled a Riesling Late Harvest, "Bunch Select" 2010. For this wine, the concentration was not obtained by picking the grapes frozen, like an Ice Wine, or by having the grapes hang long enough so some water from the berries would evaporate, like a traditional Late Harvest, but with the help of a friendly fungus: Botrytis Cinerea. The fungus grows on the berry and absorbs all the water it needs, along with a few nutrients of course. This fungus needs particular weather conditions to grow properly without ruining the fruit. It needs fog in the morning and sunshine in the afternoon, and the berries have to be whole, undamaged by birds, deer or bruised by vineyard equipment. The berries whose the skin has been ripped and the juice exposed will turn into grey rot, giving and off flavor to the wine. In 2010 we were blessed by finding Botrytis Cinerea growing homogenously on a Riesling block, but growing in "a nice way", the "Noble rot" way. The grapes had to be picked berry by berry and in three successive passes until the weather got too cold for the fungus to continue its "magic". The result is a wonderfully balanced wine with a very complex nose. When you taste it, whatever scent you think it has, you cannot be wrong, because it's in there!

At this time of the year, we are busy pruning in the vineyard. Pruning is a fundamental stage to the rest of the growing season: it allows us to control the crop we will have at harvest. Each bud we keep will develop and become a fruit baring shoot. The more we leave on the vine, the more grapes we will have at harvest. Consider the energy one vine puts into producing fruit; too many grapes tend to dilute quality and drain the vine from its energy and reserves. On the other hand, we still have to be careful to leave enough buds to balance the vine's natural vigor and have some extra buds knowing some may never develop due to winter damage, spring frost or even later season threats like deer.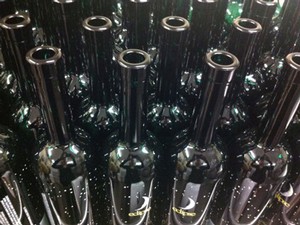 There's always something interesting developing in the cellar. Currently, most of the 2012 reds are now in barrels, as we pumped older reds from barrels to be filtered and bottled. We just bottled Game Bird Red and 2010 Eclipse Red. Next week, we will bottle 2010 Ingle Vineyard Pinot Noir and 2011 Ingle Vineyard Chardonnay. The 2012 whites are being cold and protein stabilized, we plan to bottle these sometime in June. We also have some specially selected Reserve wines for which I'm particularly excited about this spring: 2011 Baco Noir, 2011 Blaufränkisch, 2012 Pinot Gris and 2012 Gewurztraminer. Yes, Baco Noir is almost there, as many customers have been asking for it for a while.
The 2012 vintage will be Heron Hill's first Pinot Gris and Gewurztraminer ever! We are very excited about these two wines and plan to release around 200 cases each. Pinot Gris, also known Pinot Grigio, can be a very shy wine. I have found our 2012 Reserve Pinot Gris to be very different than any Pinot Grigio I have encountered. Our Pinot Gris is very expressive on the nose and complex with tropical fruit and cherry blossom notes.
Many people have asked for a Gewurztraminer since I started at Heron Hill in 2009. We will release the wine in just a couple months! For me, the nose is lychee, characteristic of the varietal, but it also has some floral notes, making the bouquet very elegant.
On a personal note, I am looking forward to visiting my friends and family in southern France at the end of March. So much for trying to lose some weight! When I visit, each meal is a feast, easy on the greens but heavy on the fat and tasty meats and cheeses. It feels really good to go back to where I grew up…my grandparents' villages, and my grandfather's vineyards where I used to work with my father. Although so much as changed or looks very different, I still love to return to these locations where I savor the memories.

With Mother Nature unleashing winter storm "Nemo" on a major part of the Northeast,
we here at Heron Hill Winery and the rest of the wineries on the Keuka Lake Wine Trail opened
our doors to many visitors who were not scared to come out and enjoy a wonderful Finger Lakes event called the Cheese and Wine Lovers Weekend. At Heron Hill, we invited First Light Creamery to
come spend the weekend with us, sampling and selling their cheeses. The cheese maker, Trystan
and his fiancée Emily were happy to get away from the goat farm for a weekend bringing us 25
pounds of their Cream Roasted Garlic and Pepper Chèvre cheese. We used it to bake into
our Chèvre Puff Napoleons over Arugula Salad (recipe available here) topped with Roasted Garlic Red Wine Balsamic Dressing from a local producer, Chef Lerman.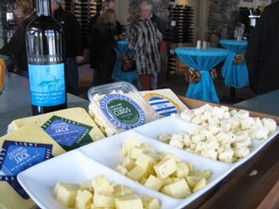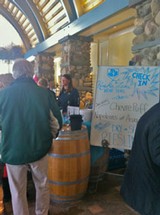 We received rave reviews from all our customers giving lots of great praise and thanks
for using so many local producers. We really pride ourselves on trying to acquire as many
products produced in the Finger Lakes as possible. We are hoping to arrange with First Light Creamery to carry their cheeses in our Blue Heron Café for the 2013 season. The full lines of products that we carry from Chef Lerman have always been hot sellers in the food section of the gift shop.

After such a successful for all the Keuka Lake wineries, I am already looking forward to our next wine trail event, "Viva Italia!" on April 6th & 7th. Each of the 7 participating Keuka Lake wineries chooses a region of Italy with rich flavors enhanced by superb, food-friendly wines produced from each of our vineyards. I just got a preview of the recipe from our Café Director, Mike Oliver for the event and am very excited that we are going to be serving Roasted Eggplant Cannelloni Neapolitan a specialty from the town of Naples located in the Italian region of Campania.
This event always brings back great memories from when I spent a semester in Florence,
Italy. What a great country, so hospitable and the food was AMAZING! My house mother,
Roberta, was always making traditional recipes. I was very glad that I walked 4-5 miles a day to
work off all the calories from the breakfasts and generous dinners that she created each day.
I hope to see some familiar faces and make some new friends at our Keuka Lake Wine Trail events this year. These food & wine events are so much fun and you get to be greeted each and every time by my smiling face! Salute to an incredible 2013 season!

The fermentations of the 2012 wines can dwell into December for some batches of Riesling and Late harvests. For the white varietals, it is not a bad thing to have a slow fermentation: it gives the wine more complexity and preserves the volatile aromas. As long as the sugar content is going down, I am not very worried. Some winemakers have their wines ferment until late spring.
The white wines which have completed the alcoholic fermentation are then racked off the lees a couple of times before being cold and protein stabilized. By chilling the wines at around 28 degrees F, tartaric acid and potassium ions naturally contained in grape juice react together and form tartrates, the little crystals you might have seen in a white or rosé wine that was thrown in the freezer for a quick chill, or the cork of a bottle of red wine. Tartrates are not armful; they just look weird in a clear white wine and feel like sand in your mouth. The tartrates settle to the bottom of the tank and are removed from the wine. Heat or protein stability is obtained by getting rid of the proteins contained in the wine by adding bentonite, a sort of clay. The proteins weighed down by the bentonite settle to the bottom of the tank and are removed from the wine. After a couple of filtrations, the heat and cold stable wine is ready to be bottled during the summer.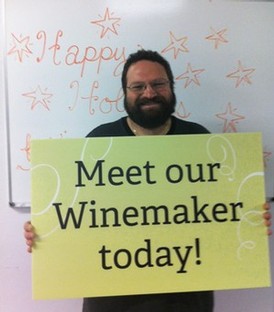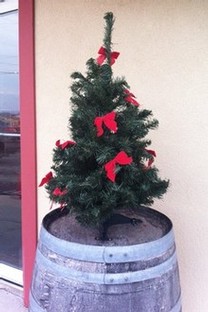 The red wines don't have to go through heat and cold stabilization, although some winemakers may choose to do so. Over the winter, the reds go through a secondary fermentation, called Malo-lactic fermentation. Malo-lactic bacteria eat malic acid, naturally contained in grape juice, and produce lactic acid, which is a softer acid than malic acid. This secondary fermentation makes the wine more stable against spoilage and makes the wine softer. We do not have our white wines go through Malo-lactic fermentation in order to preserve the natural crisp acidity of the Rieslings and chardonnays and other white wines. It's all about balance!
In the vineyard, we are plowing to cover the base of the trunks of the vines to protect them from the harsh winter. We are fixing wires, posts and such before the soil freezes. Pruning starts with the New Year and lasts throughout March.
For the Holidays, my wife and I return to Long Island where her relatives reside. We traditionally celebrate with the Italian "Feast of the seven Fishes." You might have guessed it: it's all seafood! I usually bring the wines, of course: Heron Hill Muscat, Dry and Semi-Dry Riesling, Ingle Vineyard Cabernet Franc and Eclipse Red for the red wine drinkers, and I better not forget my mother in law's favorite: Late Harvest Vidal Blanc. It is the occasion for us to see all our cousins, at least once a year, catch up, and have a great time, playing pool and poker. These guys can be tough! Happy Holidays, and drink responsibly.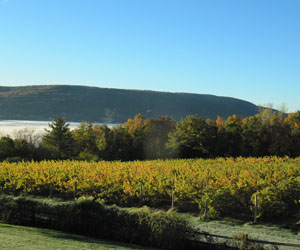 There is a standing joke in the wine business that in Bordeaux, France, every vintage is the best ever and thus justifying raising the price. Fortunately, and unfortunately, this is not the case in the Finger Lakes of New York. Every year there seems to be some glitch that throws a wrench in to the works of what would be the best vintage ever. We've seen extensive winter bud kill from -20 degree temperatures; we've seen Spring frosts into the low twenties in May; we've seen hurricanes that wash out the harvest and turn a seemingly great harvest into a good harvest. There are so many things that can go awry. Wine growers must be super-resilient just to survive, not to mention excel.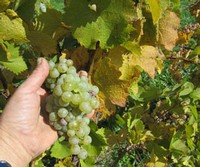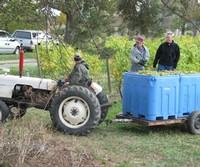 2012 appeared to be another one of those years as we experienced devastating late spring frosts state-wide in early May, reducing potential crop loads by up to 25%. These difficulties were followed by localized hailstorms that actually wiped out some vineyardists' crops. Surviving these events, we endured a summer long drought that further stressed the vines, and the farmers. As harvest approached, timely rainfall arrived and the brix (sugar) levels soared. Usually we are delighted to get 21° or 22° brix but this year brought up to 25° brix levels across the board. The rains held off and super-ripe, clean fruit arrived for crushing up to three weeks early. It was a very fast harvest with everything ready to come in at the same time. The production team scrambled and as the fermentations are now over we see – in my opinion after 40 years as a grape grower – the best year ever! Time will tell – next year we'll know the results. Stay tuned…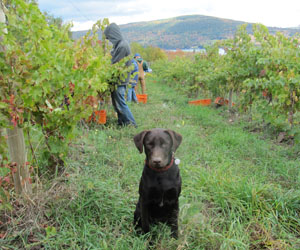 Muscat grape is considered one of the oldest, if not the oldest, grape domesticated by man. Its origin is unknown but it could come from the Middle East or the Arabian Peninsula where it could have been cultivated about 4,000 years ago, if not longer. It is believed that traders and/or soldiers brought the Muscat vine from the Arabian Peninsula to the Mediterranean: soon Egyptians, Greeks and Romans not only grew it but also took the vines with them during their conquests and spread it all around the Mediterranean. It then was propagated throughout all of Europe, from Portugal to Russia. In the Nineteenth Century, Muscat was introduced in South Africa, Australia and New Zealand.
Because of such a long heritage, there are at least two hundred different varieties containing the name Muscat. They belong to the Vitis Vinifera family. Examples?
Muscat Blanc à Petits Grains is commonly used in Asti Spumante (sparkling) and Muscat De Frontignan (Vin Doux Naturel). It also has many different names: Muscat d'Alsace, Muskatelle, and Moscato Bianco. Moscato Bianco in Italy is used to make the sweet, effervescent Moscato d' Asti wine that is currently on trend and widely referred to in the United States as just Moscato.
Muscat of Alexandria gets its name from the Egyptian City of Alexandria, one of the most advanced cities of its time, with the first and biggest Librairy, before tsunamis, earthquakes and invasions destroyed it. This Muscat grape can be found in Moscatel wines, sherry wines, or as table grape and raisin.
Muscat Ottonel, also called Moskately, is used in dessert wines in Austria and Eastern Europe.
Muscat of Hamburg has a darker color and is used as table grape or dessert wine in Eastern Europe and Northern Italy.
To make it even more confusing, each region can have a different name for the same grape.
Apart from settle variations, all these varieties of Muscat tend to express the same aromatic characteristic. The compound Linalol present in the juice is very aromatic and is described as musqué in French. It is reminiscent of Lychee, an Asian fruit you can find in…Asian Cuisine. It is somewhat similar to the aroma of a Gewurztraminer, which may be a sign of a Family tie between the two varietals. The spicy note in the Muscat bouquet is not too far fetched from the spicy aroma of the Gewurztraminer, Gewurz meaning spice in German.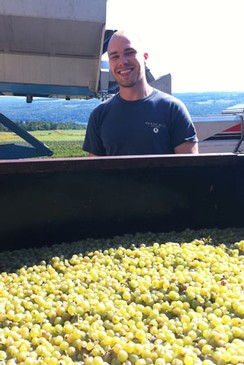 At Heron Hill Winery, we grow Muscat Ottonel and we added a new planting of Muscat Blanc. Muscat Ottonel is used in the production of Dessert wines, but grape production has been so limited that we have not made a Muscat Late Harvest in a couple of years. Hopefully, with the Muscat Blanc coming into production in a couple of years, we will be able to produce a Muscat Late Harvest.
Crushing Muscat on September 12, 2012: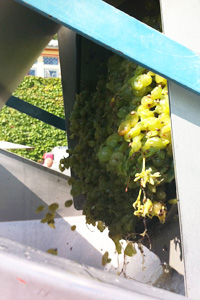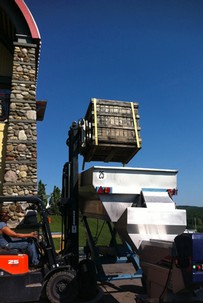 Some of our grapes come from various grape growers throughout the Finger Lakes (Keuka, Seneca, Cayuga and Skaneateles Lakes). One of our growers on the west side of Seneca Lake has planted a vineyard of Valvin Muscat. Valvin Muscat is a cross between Muscat Ottonel (Vitis Vinifera) and a hybrid called Muscat du Moulin. It was developed at Cornell University in Geneva, NY. Valvin Muscat is a hardier variety than most Vinifera, and exudes the same typical lychee and spicy aromas as any European Muscat.
With these grapes, we produce the Heron Hill Muscat. The first release was in 2010 with the 2009 vintage. It sold out in a few months! We are now about to run out of the 2010 vintage, and we will then switch to the 2011, which has the new Heron Hill Classic label and a screw cap! So far, the Heron hill staff has been very excited about this new release about to happen. Just twenty-four hours after bottling, we offered a pre-release taste of the 2011 Muscat at our Label Launch Party on August 1st. It was very well received on a hot summer afternoon paired with roasted turkey and mango-cilantro coulis on a slice of baguette.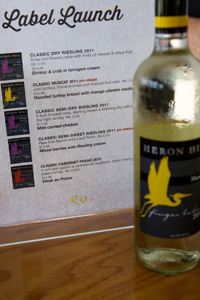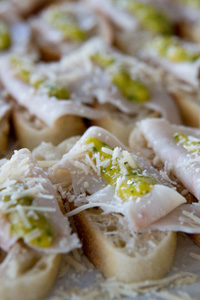 Ah...summer in the Finger Lakes. Much awaited, all too brief. I asked Team Seneca to share some of their summer "favorite things" moments. Aimee leads off, her words and those that follow from the rest, tell the story.
"Summer is long awaited in the Finger Lakes and once it is here we savor every beautiful sunny day and every warm summer night. My favorite thing is firing up the grill (OK…it's gas but you still have to push the button, right?), then I pour 2 glasses of deep, rich Blaufränkisch to share with my 24 year old son, Mathew. Warm and welcoming, the wine gets your mouth ready for those steaks. My daughter, Katie will want chicken and classic Semi-Sweet Riesling. And my baby, 19 year old Ann, will invite a few extras over for dinner. This will only happen a few times this summer, when we are all together for a great meal and lots of laughs. (The rest of the time, it's me and the dog hanging out on the patio with a glass of Cab Franc and a block of cheese on a paper plate.) But when it happens...it is truly one of my favorite things." --Aimee
Erin enjoys sitting on the patio sipping a glass of Vidal Blanc while watching 4th of July fireworks and celebrating the start of summer.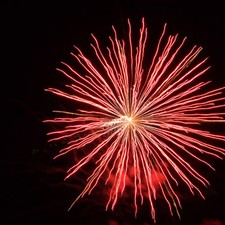 Ed said, "Summer in the Finger Lakes is the best and there is nothing better than enjoying a Heron Hill 2011 Dry Riesling. Now with the new twist-off cap, I can kick-back in my hammock and open my Riesling with ease, savor it, and know that life doesn't get any better."
Straight to the point, Bill replied, "Local produce, good wine and no snow."
Carol talked about the summer pleasure of sitting on her deck and watching the hummingbirds enjoy the light, lovely nectar of her flowers as she enjoys the soft, floral presentation of the Heron Hill Muscat.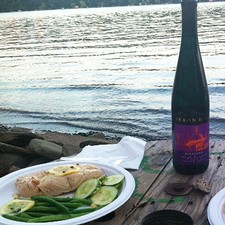 Steve and I had the same thoughts…a full house for the 4th of July and watching our kids and grandbabies and goofy dogs play in the lake...sunset boat rides…grilled clams and sweet corn and son Dan's 7 hour BBQ ribs (smokey, sweet, heat)…a chilled glass of Ingle Vineyard Riesling on the porch with friends.
We would love to hear some of your "favorite things" moments.
Cheers to summer! (It's not over yet.)

Wedding Season is in Full Bloom
With 12 weddings down this season, I have about 10 more to go.
Several new wedding trends have caught my eye this year.
Here are five that I love:
Trend 1 - No set rules. "Pick" a seat.
Many of my bride and grooms are opting out of seating charts and allowing guests to "pick" their own seat. Several have used Pinterest to come up with cute, witty signs to explain their decision for keeping the seating open.
Trend 2 – Let them eat ice cream cake!
I have had many couples express their dislike for traditional cake and they truly use their imagination for the dessert. Ice cream cake, shortcake bars, ice cream bars, cookie tables and a rice crispy cake are just some of the tasty trends I have seen.
Trend 3 – DIY Florals
I have had a few brides make their own bouquets out of fabric and buttons. The nice thing about these bouquets, you will have them forever. They never dry out, die or get ruined. Brides are also opting to go with versatile Mason jars and wildflowers for a more simple, romantic feel.
Trend 4 - Thumbprint Trees
As a guest book, I have seen several hand painted trees where guests use their thumbs to make a print and write their names. As long as you have a pre-done sample, it turns out nicely and you then have a piece of original artwork for years to come.
Trend 5 - The first look
The Bride and Groom have been using the Heron Hill Tower to "meet" prior to the wedding. This allows the couple a private viewing of each other prior to the ceremony. They also make time to organize and shoot pictures ahead of time, giving themselves the ability to join cocktail hour.
If you are looking for new and fresh ideas, I recommend visiting the following websites: Pinterest.com and GreenBrideGuide.com; as well as Well Wed magazine online and in print. They all have great ideas for weddings.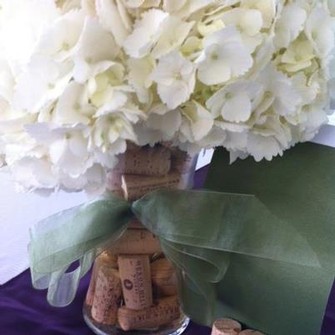 Don't forget to sign-up for the Heron Hill Wedding Show happening on Sunday, August 26th from 1:00 - 4:00. We will have a selection of great vendors to help you with your big day…brides enjoy a complimentary glass of wine!

Have you heard? The Palettes of Keuka are out and on display all around the lake! I am so excited to be joining the event for the 5th consecutive year. The Palettes of Keuka is actually in the sixth year of the very successful arts event. This year the artists really "stepped it up another notch!" I was at the preview showing of all the palettes at Pleasant Valley Winery and was beyond impressed with all of them. I am so glad to be part of bringing art to the forefront all around Keuka Lake. The event allows the committee to provide funding for numerous art related activities and scholarships for the ongoing arts development in and around Hammondsport and Keuka Lake.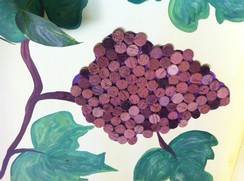 I again went out of the box this year and made a stand up wine rack that hold 6 bottles. It was another idea that come to me in the middle of the night (…like usual)! For the grape design, I sawed off the tops of red wine corks to give it another creative feel. I currently have left the back blank but am willing to paint a design on the wine rack for another hundred (or two) at the auction. I am sure my favorite auctioneer, Steve Muller, will help draw the price up with this piece of information!

This year's auction is scheduled for Saturday, September 8th. I really hope anyone who appreciates art and wants to give back to the community WILL be there! The preview begins at 10:00 am and the live auction starts at 1:00 pm sharp. I will be there to help bid up the prices, I can't wait….it's always exciting to see what everyone is willing to pay for great art.

Greetings from the tasting room of Heron Hill on Seneca Lake.
Spring marked the beginning of our 7th year here, and we are pleased to welcome back many of our outstanding staff including Alicia, Erin, Carol, Ed, Bill and Virginia, with the addition of a new assistant manager, Aimee, who brings experience and some new ideas to our tasting room.
When you visit this year, you will notice that we now offer wine served by the glass to be enjoyed on our patio. We are conveniently located on route 14, nearly halfway between Watkins Glen and Geneva, a great place to bring your picnic and take a mid-day break.
You will also notice that the really special features that keep our guests returning have not changed. We continue to pride ourselves on our excellent service by a well trained team, a relaxed and fun tasting experience, and most importantly, great wine.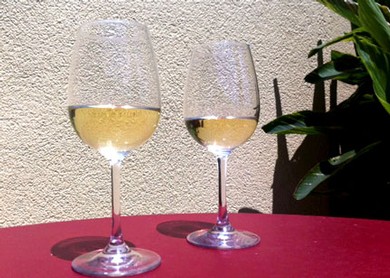 Summer traditions of entertaining and fresh farmstand food are an anticipated part of the season. Combine that with a lovely chilled wine, maybe the Classic Chardonnay 2010 or Semi-dry Riesling 2010 and you have a perfect match. Another perfect pairing is grilled peaches with vanilla ice cream and our 2008 Vidal Blanc Late Harvest dessert wine. It is truly an unforgettable summer taste.
We look forward to seeing you this summer so pack your picnic, come for a tasting, and then relax at one of our tables or on the lawn with a chilled glass of your favorite Heron Hill wine. It just sounds like such a good way to spend a lazy, hazy summer afternoon.